Proprietor Cindi Ryland's

wonderful window displays always change with the seasons--and then some! Right now, in the hottest summer we have known in Ellicott

City, Maryland, for many years, she is featuring one and two piece women's bathing suit

s from the 1950s...and she has a wool suit from the 20s as well.
This unique
store is a "must-see,"
for tourists and locals alike.
Where:

Located at 8227 Main Street, you can easily find it just two doors north of

Old

Columbia Pike next to what was once the town movie theater (Now Precious Gifts) and across the street from the Historic Fire House Museum.

Three Floors of Joy:
But this dynamic store with three floors of wonderful items is far from a museum, although when I go in, I think perhaps I am in a gallery of some kind as I view products and objects from the past, but in an updated, funky way. Yet Cindi's shop is also very elegant and each display (I love the hats in particular) is crafted with an artist's eye.
She is a recently retired French teacher, which may contribute to her expansive point of view.

Shall we go inside now?
And, of course, everything in RETROPOLITAN is for sale.
It's always fun taking pictures both outside and inside the shop. This view shows a little of the historic context, with Ellicott City's pervasive telephone poles and wires that I, for one, have come to love.
The same designer's mannequin is shown here with the two-piece 1950s suit in a stretchy nylon material.
Going up or down Main Street in

Ellicott City Historic District

, this is the sign you want to look
for!
Now, what I plan to do here is combine some bathing suit history with photos and descriptions of the "real thing" from the current inventory at RETROPOLITAN.
Note: The information on bathing suit fashion and history was excerpted from Wikipedia and Fashion-Era.com--with minor editing to simplify and clarify, where deemed necessary.
______________________________________
1920 fashion photo, courtesy Wikipedia
History of Bathing Suits in the USA
In the United States, beauty contests of women in bathing costumes became popular from the 1880s. However, such contests were not regarded as respectable. They became more respectable with the first modern Miss America contest held in 1921...Norman Rockwell judged the Miss America 1922 Bathing Beauty Contest along with Howard Chandler Christy and James Montgomery Flagg...
...In 1907, Australian swimmer Annette Kellerman visited the United States as an "underwater ballerina," a version of synchronized swimming...She was arrested for indecent exposure because her swimsuit showed arms, legs and the neck. After that, Kellerman modified the suit to have long arms and legs and a collar, still keeping the close fit that revealed the shapes underneath...She later marketed a line of bathing suits and her style of one-piece suits came to be known as "the Annette Kellerman."
(Wikipedia is thanked)
Swimsuit Fashion History
1920
By Pauline Weston Thomas for Fashion-Era.com, including illustrations
Fashion history was shocked into the 20th century with some of the newer figure hugging swimsuits that revealed the body limbs more clearly than ever before.

Liberated from long skirts, young women of the twenties wore wool jersey sleeveless tank suits.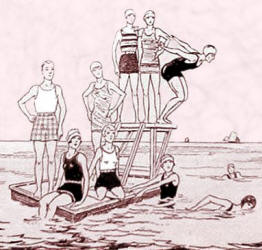 Bathing beauties in the 1920s (above, left)
and (right) in 1928.
The swimming suit was ideal for the androgynous athletic figure that fashion suited styles of the 20s. It looked very similar to male swimming costumes of an earlier era. The swimsuit legs stopped at an unflattering point mid thigh and beneath the swimsuit legs were built-in modesty shorts. Men wore wool, one-piece suits as well. Note:
The man on the left in this drawing, above, who is depicted in plaid shorts and a white tank top would seem to be out of place in the 1920s fashion scene, says Cindi Ryland, creator/owner of RETROPOLITAN. She added, "Looks more like the 30s!"
The photo, above, taken at RETROPOLITAN when I interviewed Cindi Ryland, shows a typical 1920 bathing attire look--a women's wool tank style in black, a one-piece suit, worn by men and women. Detail, left: Same suit (photo: Cyndi Ryland.)
A little more

general history from Wikipedia:

After the 1920s, bathing wear started to shrink, first uncovering the arms and then the legs up to mid-thigh. Collars receded from around the neck down to around the top of the bosom. The development of new fabrics allowed for new varieties of more comfortable and practical swim wear.
1939 fashion suits
1930's

Women's Bathing Suits
Pauline Weston Thomas,

Fashion-Era.com
Feminine cotton printed bathing suits often with little over skirts to hide the thighs gradually replaced the ugly 20's fashion.

The 20's suit, which sometimes sported cutout sections in the midriff panel, disappeared as it evolved into a two piece garment. By this era most of us would recognise the late 1930's swimsuit as one that bears some relationship to swimwear of today.





In the 1940s,

corset manufacturers saw a gap in the market. Corsetry was losing ground, but the new more revealing swim suits really needed experts to design garments that hid those small imperfections in a woman's shape. They achieved this by adding stretch tummy control panels to hold in the stomach. Manufacturers also used bra cups and boning to give bust support. Costumes could then be worn either strapless or with small straps that buttoned onto the inside.


1940s suit with modesty panel.
Back to Ellicott City's Main Street! This 1940's bathing suit, shown above, is available for purchase at
RETROPOLITAN.
(Photo: Cyndi Ryland.)
Note from the blogger: My mother, a dedicated heliophobe, wore one of these 50s stretchy corset-like suits when our family went to the beach in California...
I can see it all in my mind.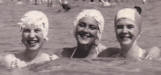 Women still continued to wear all-in-one swimsuits in the 1950s, but there were

two-piece suits

as well. Women also took great care to cover up their hairstyles, such as the lacquered "Beehive," when swimming--and simply holding their heads out of the water. The bathing caps shown to the right were decorated with plastic petals or leaves to make them prettier than a simple fitted bathing cap.

Apron-Style Swim Suits and

Play Suits of the 1950s



Each one of these late 1950's swimsuits, pictured below, had detachable straps and almost very woman appears to be wearing what we would view as the equivalent of a beach corset! This is particularly noticeable in the mustard version which seems to almost be a colored corselette.

The swim suits of the 50s and early 60s were cut straight across the top of the leg in the form of a modesty apron that hid the separate matching fabric crotch...
The woman shown in a rendering on the right, below, is wearing a two-piece flared short (like a mini-skirt of of later years) with a halter top...probably in cotton.
This style more closely parallels the 50s bathing suits carried in

RETROPOLITAN

, cleverly adorning the walls going down to the lower floor. Note: The blogger is aware that all the women have identifiable waists at this point in our cultural history.
Above: Three 1950s Romper (Play Suits).
Photos: Cindi Ryland.
At

RETROPOLITAN

, Ryland showed me a number of cotton

Play Suits

from the 1950s,

featuring short-boy legs and zippers up the back. More accurately is Cindi's term

"

romper suits."

Shown above, three different suits, this style seems to have stood the test of time and is now popular with modern beach goers. Blogger note: I thought they were adorable...and can see why a woman would come in, try one on, and walk away with a smile!
Postscript to the 1950s: The Bikini and how it was named
The first bikinis were introduced just after World War II. Early examples were not very different from the women's two pieces common since the 1920s, except that they had a gap below the breast line allowing for a section of bare midriff. They were named after Bikini Atoll, the site of several nuclear weapons tests, for their supposed explosive effect on the viewer.
Through the 1950s, it was thought proper for the lower part of the bikini to come up high enough to cove
r the navel.
Into the 60's, briefly
Finally, Cindi Ryland showed me two examples of bathing attire from the 1960s at
RETROPOLITAN.
First, there is a women's green, white and gray block print bathing suit with modesty panel. I thought this style looked a little like "Princess style" dresses, e.g., closely fitted with a graceful bottom flair--at least more so than the 50s Rompers. The yellow men's suit, below, Cindi labeled "Chick Magnet." It is decidedly shorter than the styles worn today, but lots of fun to show off and be a bit different at Ocean City!
Both photos showing 1960 bathing suits were provided by Cindi Ryland.
Ending the Tour.
Be sure to visit
RETROPOLITAN
the next time you're in Historic Ellicott City, Maryland. It is also near YATES Market and across from the steep hill of Church Road.
Blog feature: Kay Weeks
Photos:KW, except where noted.
Go to Jeremy Kipp Clark's
www.ellicottcity.net
for comprehensive information on Ellicott City and beyond.
7.25.11